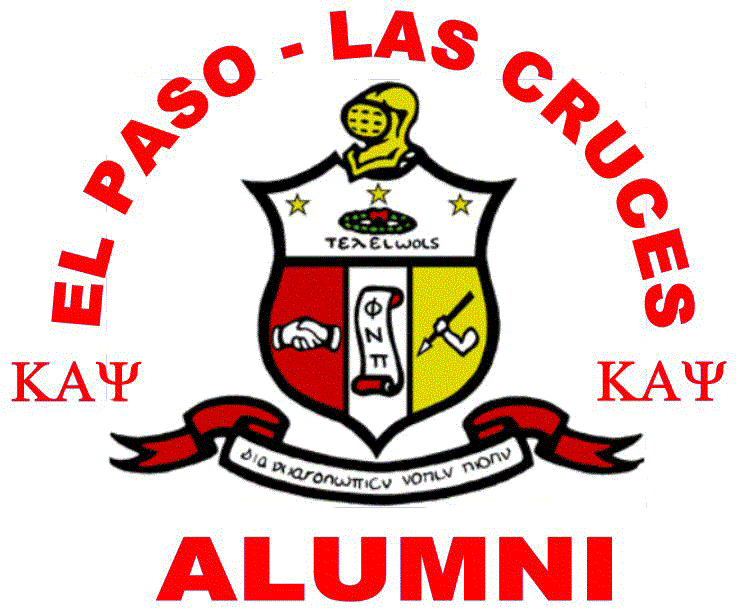 El Paso - Las Cruces
Alumni Chapter (TX-NM)
Jesse (a.k.a. "Eugene") was born in Pauls Valley, OK to Jesse E. Sr. and Patsy Fields. He attended public schools there and graduated from Pauls high school in May 1962.
Eugene attended Central State University (now University of Central Oklahoma) in Edmond, Ok, where he received a B.S. Degree in Mathematics in May 1966.​

While attending "Central", Eugene was initiated into the Epsilon Gamma Chapter of Kappa Alpha Psi in 1963; he served as the Dean of Pledges for two years. Eugene became active with the El Paso-Las Cruces Alumni Chapter of Kappa Alpha Psi in 1984. Since 2003, Eugene has served as President of the Kappa Community Service Foundation (KCSF), Incorporated.​

After graduation, Eugene accepted a position as a Manufacturing Program Planner in the Industrial Engineering Department of The Boeing Company, Wichita, Kansas Division. He was responsible for data collection and making parametric estimates of manpower requirements to fabricate aircraft components. He served on major contracts such as the Aero Med Hospital, Vertical Takeoff and Landing (VTOL) helicopter, and the Boeing 727 aircraft.​

While at Boeing, Eugene was recruited and served as a Structural Engineer. Major programs included the B-52 in the Wing, Empennage and Sealing Group and the 737 Quiet Nacelle. He remained at Boeing until drafted into the US Army in 1968.​

Eugene was assigned to Headquarter, 5th Army Data Processing (ADP) Center, Ft Sam Houston, TX. He was responsible for maintaining data bases of active and reserve strength for the 5th Army. Eugene was honorably discharged from the US Army in July 1970.
After leaving the US Army in 1970, Eugene began work toward a graduate degree. He enrolled in the continuing education program at the University of Oklahoma, in Norman, OK.
​
After completing 33 hours in the areas of business administration and economics, he accepted a position as a Manufacturing Supervisor with Texas Instruments in Sherman, TX. Eugene supervised up to 18 production line employees in the production of micro-circuits from silicon wafers to be used in digital watches, calculators, and computers. The micro-circuits fulfilled procurement contracts of various customers, such as IBM.

In 1974, Eugene left Texas Instruments and entered University of North Texas (UNT) in Denton, TX full-time to continue his graduate work in economics. He graduated in 1976 with an M.S. Degree in Economics and a minor in Business Administration with an emphasis on research methods. Eugene's master's thesis was entitled: "The Role of Residential Construction and Stabilization Policy in the Post World War II Period."

After receiving the Masters Degree in Economics, Eugene accepted a position as a Specialist Program Planner at Martin Marietta Corporation in Denver CO. His responsibilities included participation on proposal writing teams, project planning, scheduling, and control; project evaluation and performance measurement, including the use of Earned Value Management Systems (EVMS). He worked on major US Air force and NASA aerospace contracts including the MX Missile (also known as the "Peace keeper"), Global Positioning Satellite, and several Shuttle subsystem contracts.​

Eugene served as Project Planning Analyst at Solvent Refined Coal, International in Denver, CO. He provided planning and scheduling support for a research, development, and demonstration joint venture between the United States, Germany, and Japan to build a coal liquefaction demonstration plant using clean coal technology.​

In 1984, Eugene accepted a position with the Department of the Army at TRADOC Analysis Center, White Sands Missile Range, NM. During his tenure at White Sands he worked as a Mathematician and Operations Research Analyst. He was involved in computer simulations, software model maintenance and conversion, and cost analysis. He participated in cost-benefit studies, including training, logistic, and operational analyses. Eugene retired on December 31, 2007, after 25 years of federal service.
While an employee of the Department of the Army, Eugene attended the College for Financial Planning off campus program, headquartered in Denver CO. He successfully completed the course requirements for the Certified Financial Planner program and received a certificate of completion in 1997. The next step is successful completion of the CFP Certification Exam.​

Eugene has one daughter, Tammy L. Whitlow (Prairie View A&M, Class of 1993), a granddaughter, Deanna and a grandson, Timothy. Eugene is a trustee at Mt Zion Baptist Church in El Paso, TX. He is also an avid reader, particularly of subjects dealing with history and economics. He finds politics interesting to watch. Eugene loves sports, particularly football, and workouts as much as possible.